Arrival of new fire truck
Here are a couple of Pictures of the new truck arriving on Mudge.
In this section
Mudge Island current wildfire hazard rating:
LEGAL SIZE CAMPFIRES ONLY.
Early shift for high risk activities
1pm shutdown -- 2hr fire watch
Category 2 OPEN BURNING PROHIBITED
M.I.C.S Donations made easy
Report wildfires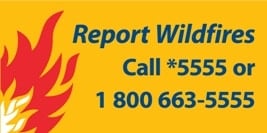 If you see smoke, flames or an open fire violation, call 1 800 663-5555 or *5555 immediately.
Learn more
M.I.C.S
M.I.C.S Year to date
Volunteer hours
Visitor Count